OK, I'd arrived in Puerto Varas and as I was staying there two days, the following day I went out to explore a bit more.
It was only 130 miles and this was my route: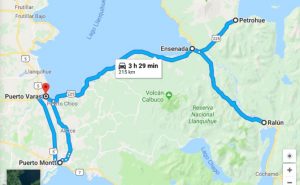 Essentially I rode back the way I'd came the previous day to Ensenada then took a back road up to Petrohue, back to Ensenada then down to Ralun, back again to Ensenada and Puerto Varas then a ride down to Puerto Montt and back.
The morning had been very overcast but as noon approached the sun came out and I had a pleasant 3 hours.
The area has a strong German influence. Many Germans emigrated to this area in the 1850s. Their influence is seen in the style of architecture and even the cooking – lots of places advertising Kuchen and Strudel.
Here are a couple of churches I passed – both Lutheran naturally: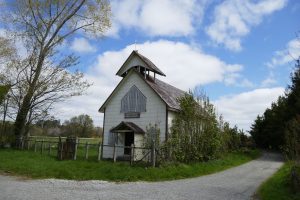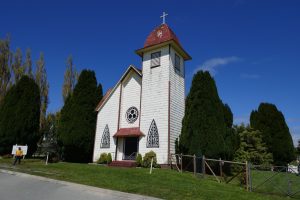 And then it was off towards Petrohue.
I spotted a river – the Rio Petrohue – and a couple of riders next to it.
The river: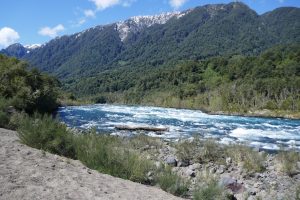 and the riders: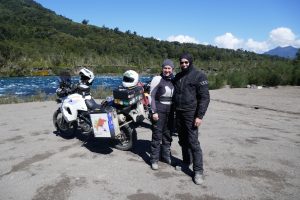 They are Parle Raud on the left and Jaanus Ugor on the right. They are from Estonia. She is riding a BMW 650 GS and he is riding an 800 GS. We had a nice chat. They just decided to sell everything and ride around the world. They have ridden from Estonia through Europe, the Middle East, Pakistan, Thailand, Australia and now they on their South American leg, with the aim being to ride to Ushaia – the Southernmost point in South America reachable on a bike. They are recording their journey on Instagram:
Ilmaring means round the world in Estonian.
I thought hats off to them. They are trying to avoid pavement as much as possible. The only problem they have had is with the stators – apparently now fixed. They made my trip look a bit pathetic by comparison.
Back on the road I headed towards Ralun. This is a dead end road so I rode till I found so photo opportunities: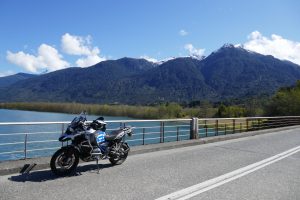 This is the estuary into which the Rio Petrohue empties: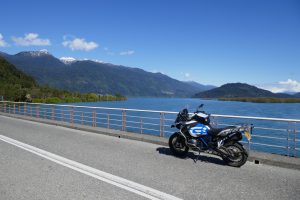 and on the way back to Ensenada I spotted this pretty little lake: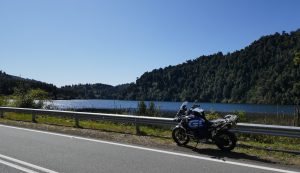 The Laguna pates on V69
Finally, the German settlers needed some power to help them clear the land, so they bought a lot of steam engines. You see them dotted everywhere as mementoes of their settler past: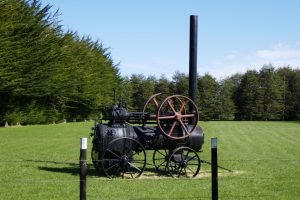 This was the best one I saw that day.
I rode down to Puerto Montt which only confirmed the advice I'd had from my friend Rosalia: Puerto Varas is much nicer than Puerto Montt!