It was time to leave Chos Malal and head for Bariloche.
Police checks seem to be a way of life in Argentina and this morning was no exception. Before I left town I was stopped and asked for my passport. The young lad looked like a trainee as his mother hen was standing behind him nodding with approval as he wrote down my passport details. He then hands me my passport back and with a smile bids me on my way. A few yards further on I noticed a sign that said that Chos Malal was the halfway point on Ruta 40. A photo was clearly in order: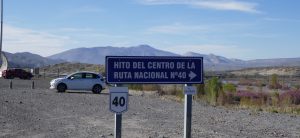 A mile or so further on I came to a decent sized river – Rio Neuquen: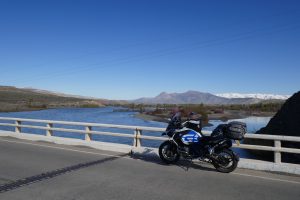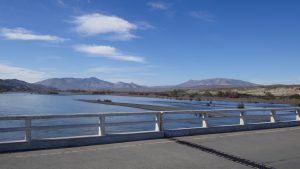 The map indicated that there was nothing of any significance en route till I arrived at Las Lajas just under 100 miles away. So it proved.
The road was in good condition with very few "camino sinuoso" sections. but the sun was shining and I was toodling along at around 70-75 and enjoying it. This doesn't mean you could switch off. Although the road is fenced off on both sides, 100 miles of fencing times 2, is a lot of fencing to maintain, and surprise, surprise there were gaps, as this enterprising Hereford bull had discovered: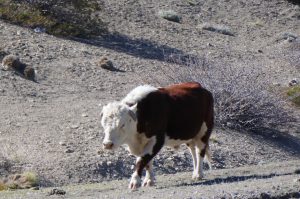 You wouldn't want to hit him in a car let alone a bike.
The views weren't that exciting but nice enough: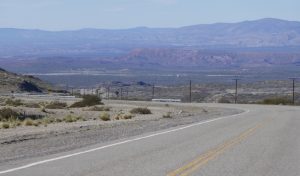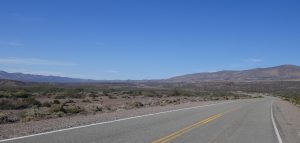 Passing through Las Lajas I decided not to stop there but to continue on to Zapala, about a further 30 miles on, before stopping. As I approached there were Police manning every roundabout and junction. It took me a few minutes to work out that they weren't on the lookout for me but were there as there was a bicycle race being held and they were there to marshall the traffic.
I did my 15 minute queue for petrol and decided against stopping anymore and instead to get on with it. I stayed on Ruta 40. The road surface was initially appalling – potholes everywhere and I was down to 20 mph so I could avoid them – I'm not joking when I say that hit one of these at 70 and you could well puncture if not destroy a tyre. After about 10 miles things settled down and despite there being warning signs about the state of the carriageway – the "calzada" – there was just the odd pothole to avoid from there on during this leg which was about 110 miles to the junction with Ruta 234 near Estancia San Ignacio.
Here is a photo of an early section after the potholes had reduced: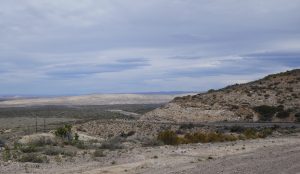 The middle part of this leg was uneventful apart from the clouds gathering and me wondering whether it was going to rain. It was cold enough even though I was only at about 1,000 metres of elevation.
Towards the end I could see another dormant volcano about 40 miles off to the right – Volcano Linan: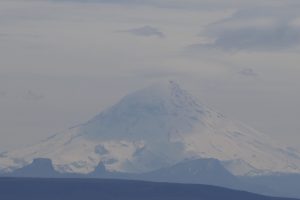 Apologies for the poor quality but I looked at the map after and it is 40 miles away.
I then saw my first armadillo – sorry no photos as it scuttled across the phone doing twenty to the dozen.
And little later on I started the descent to the junction with the 234. This was a nice piece of road, definitely a bit sinuoso: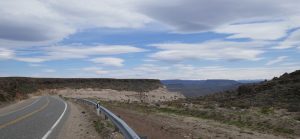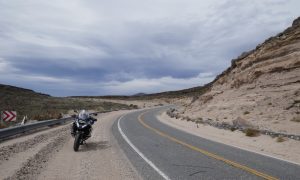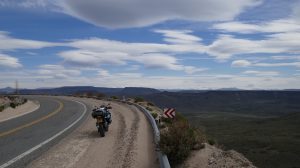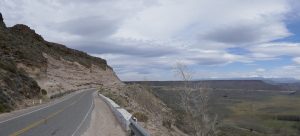 and then Ruta 40 joined Ruta 234. It's a bit daft as Ruta 234 used to be Ruta 40 and they have renamed another road as Ruta 40. Both roads will take you to Bariloche but after yesterday's efforts I opted for the shortest route – Ruta 234 followed by Ruta 237.
Ruta 234 was nice. It runs alongside the Rio Collon Cura: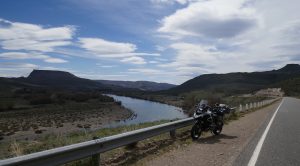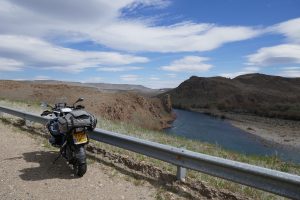 It was along this road that I saw my first Geoffroy's cat. It looked like a largish house cat but further research old me that this was a Geoffroy's cat:
https://en.wikipedia.org/wiki/Geoffr…m/P1000535.JPG
I also had a bit of fun on this stretch with a driver of a Ford Focus or similar. He was doing about 70 when I cruised past him at about 80. This seemed to affront his Argentinian machismo so he accelerated and came past at 90 and kept going. I let him go. Now this road had a few bends thrown in and it was noticeable how much he slowed down for them, when frankly there was no need. So soon I caught up with him and the repassed him in a series of bends. Next we get to a long straight and again he hammers past. He isn't ever going to win this as I can see a couple of Artics/Semis a mile or so ahead and sure enough he can't overtake them while I sail past. Bye bye Señor Ford Focus driver.
Next up I turn right over a large reservoir onto Ruta 237 which will take me to Bariloche. This runs past another very large reservoir fed by the Rio Negre from Bariloche, the Lago Alicura: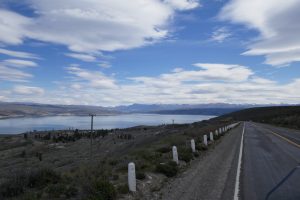 This road would have been fabulous but for some dickhead Argentinian Policeman in a patrol car. Having stopped for the above photos a few miles down the road I came across an Artic/Semi with a big load. The road is a newish road engineered around the reservoir so its up and down withe Arctic doing 40 on the descents and maybe 10 on the ascents. All this is marked single yellow line meaning you can pass if its a tractor. The Arctic is being followed by some small saloon and then the Police car. the Policeman could easily have overtaken and left the rest of us – there were about 15 vehicles following at one point – to our own devices but I suspected he was trying to goad the saloon driver into overtaking, so he could book him.
This continued for a good 10 miles when eventually we get to a broken yellow line and the Policeman overtakes. He then f**ks off at 90 and the rest of us overtake to find him tooling along at 50 and then accelerating to 80 and back to 50 etc. If I'd had a hotshot Argentinian lawyer following in a support vehicle I would have been tempted to blast past the useless POS and see if he could catch me, but I wasn't so I didn't.
However after a few miles I came to a lovely stretch of road which demanded a few photos: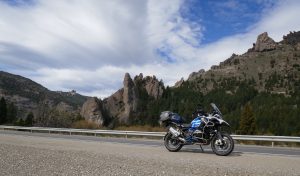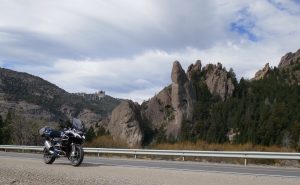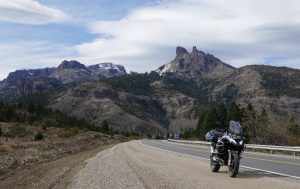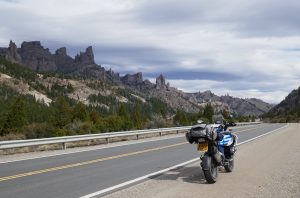 A few cars and trucks passed as I was taking these photos. On getting back on the bike I caught them up and was looking forward to a bit of overtaking action when I realised the 4×4 two in front was a Police vehicle of sorts. However he was doing 75 and not attempting to pull over the cars in front so I decided it was better to roll with the punch on this one and follow them into Bariloche. At least he wasn't behaving like the wanker earlier on.
This was my first sight of Bariloche:

This was the route for the day: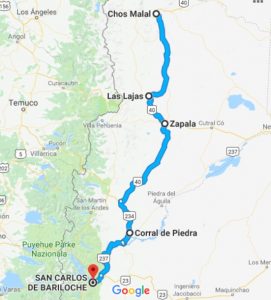 and tomorrow i.e. today I was going to have the day off and get this trip report up to date, as I indeed have!