My host at the hotel in Malargue didn't speak any English but his son spoke passable English and the father kindly got his son round so I could question him about the state of the road from Bardas Blancas to Barrancas, a good chunk of which was marked as unmade.
I prepared a list of questions in Spanish about the state of the road and with the son's help the essence of the father's advice was as follows: the unmade section was about 30 km long; about half was easy – like the unmade road leading to the hotel – and half was hard but by keeping the speed down I should have no difficulty.
So off I set and the first part of the ride was pleasant with a good road surface and nice views: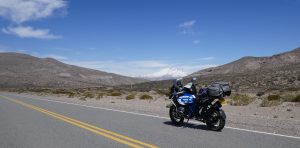 and a close up of Cerro Tenquimalal close to Bardas Blancas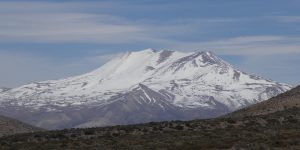 Arriving at the point where the road turned 90 degrees right I could see the start of the section was inauspicious. A bridge had been washed away and I had about 2 miles of loose pebbles to negotiate to get to Bardas Blancas.
The next bridge was standing and it announced that I was crossing the Rio Grande: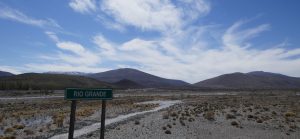 Looking the other way was a valley – keep going straight up this and you would be in Chile: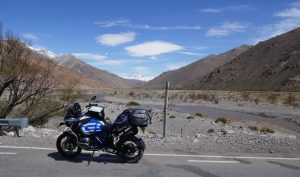 Through Bardas Blancas and things looked up: there was a brand new bit of lovely looking tarmac next to the old road: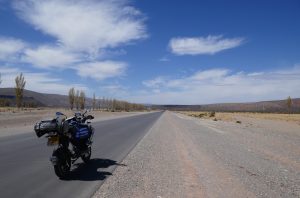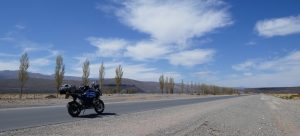 and here's the original gravel track: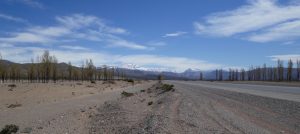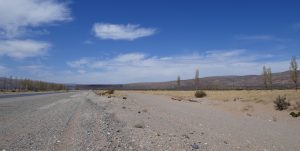 However, the new bit of tarmac ended a lot earlier than indicated on the map:

and it was loose pebbles on top of hard packed earth. The hard packed earth on its own would have been fine but pebbles rather than gravel meant that my pace was painfully slow. I really did not want to have to pick the bike up even though I know how to do it.
There were a few diversions along the route. First a goat herd: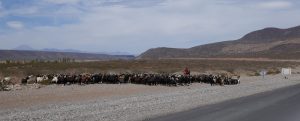 then an oil thingy – there had been a lot South of Mendoza – but I was surprised to see one here: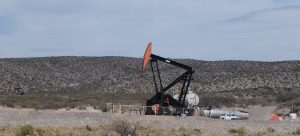 At this point I was consoling myself with the thought that this was the bad 15 km the father had been describing, but after about 20km of this I was wondering how good his advice had been. Anyway the thought of turning back was worse than the thought of continuing so on I carried.
Then things improved. The pebbles disappeared and hard packed earth with a bit of gravel took over. This was fine: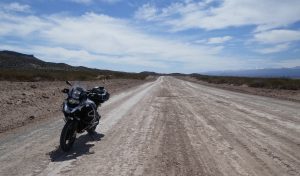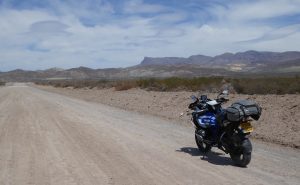 Then I got to a point where the road crossed the river – where it had bored its way down through a lava field over thousands of years: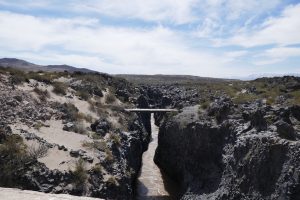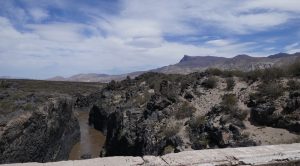 and the road got a lot worse as we were back to pebbles and it seemed that they were deeper in places and the road was also going up and down. The up bits were OK but the downward stretches if they were on bends were a 1st gear and feet down job.
I manage to keep it upright and took this photo looking up at the volcano you can see in the previous photo: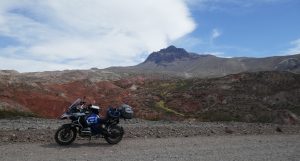 The river is running in the gully just behind. There was also a cabin there and the local came out to see what was going on when he heard the bike so I gave him a wave and he gave me one back. He was probably thinking "What is this crazy gringo doing riding
a motorbike on this s**t".
A few miles further on I came to another bridge at a spot make on the map as El Zampal and things improved significantly. The pebbles disappeared and I was back on hard packed earth and gravel and I just had to be a bit careful where there was sand.
The point where matters improved: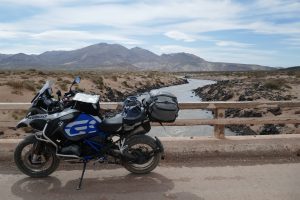 and then I made decent progress for another 10 miles or so – with a fox crossing my path at one point – until the promised land arrived: the land of tarmac!
If there had been someone there to take the photo I would have kissed the tarmac with joy: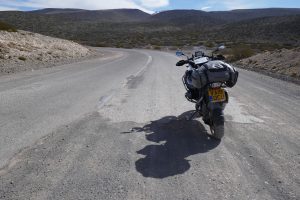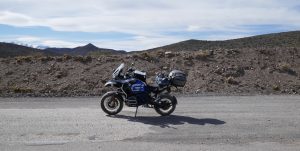 The father's 30km had turned out to be 80Km of which around 45km at least had proved to be horribly difficult. It had taken 3 and a bit hours.
In retrospect I can view it as a character building experience, a bit like riding through the torrential downpour on our recent French tour: http://www.bbot.co.uk/tours/we-reall…barcelonnette/
At least the wait for the tarmac had been worth it: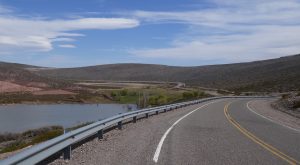 and looking East from that point to Cerro Payun: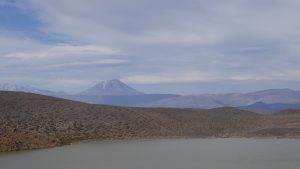 and here in the distance you can see Chapua, another dormant volcano:

and finally here's a small volcano just off Ruta 40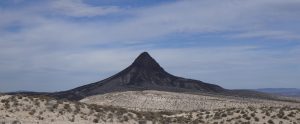 I hadn't booked a hotel for the night but had checked that there seemed to be plenty of availability in Chos Malal the next decent sized town, where I had my first experience of queuing for petrol. Apparently in the more remote parts petrol stations can dry up if the tanker doesn't turn up on time so even with a 30 litre tank which had a stated range of 129 miles I wasn't going to take a chance. So I queued like an Argentinian – 25 minutes but I regarded it as one of life's experiences.
Here was the route for today: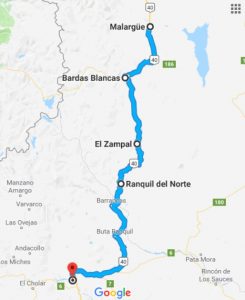 Tomorrow I would be leaving for Bariloche.