I've spent the last 3 days heading North to get myself towards a position where I can cross into Argentina from San Pedro de Atacama.
Friday 22nd
I left Valparaiso on Friday, or rather I should say that I spent 30 mins trying to leave Valparaiso as the one way system and the steep narrow streets combined to get in the way. I thought I would try a more direct route but that was a mistake as I ended up in a dodgy neighbourhood with even dodgier and aggressive star dogs who seemed to think I was fair game. It was accelerating away from one such pack that I found out that you can get a GSA to wheelie – although Taj would have decried it as a feeble effort.
Anyway I eventually got on the main road out through Vina Del Mar and onto my route for the day which was to be as follows: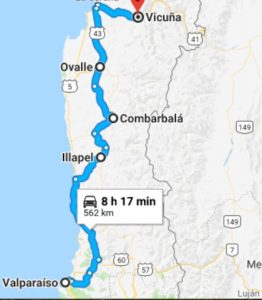 I was soon on Route 5 – the Pan American highway – and the main route to travel North to South and vice versa. It's a toll road but the tolls for motorbikes are not high. I had an easy run through to La Mostaza where I decided to get off Route 5 and head inland to Illapel.
The turn is close to the ocean and the first thing that I noticed was an enormous sand dune about a kilometre inland: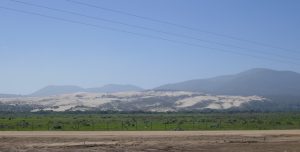 The road looked promising and so it turned out: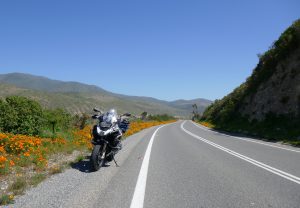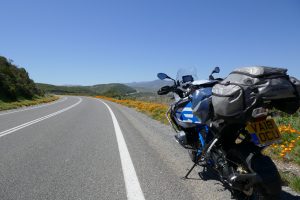 Poppies lined the roadside – very pretty
I then rode up a nice pass: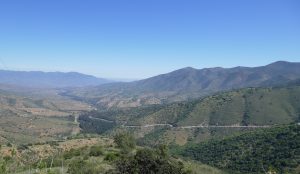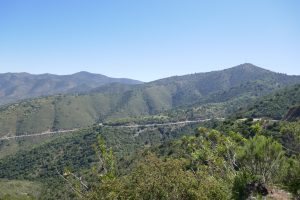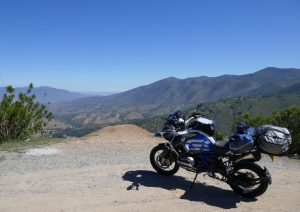 and the descent was good as well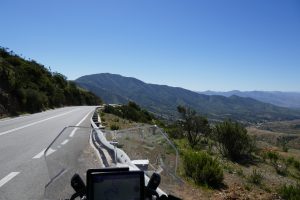 From Illapel I headed for Combarbala, which took me through the Chilean Nation Chinchilla Reserve – an inhospitable place for anyone as I couldn't see what the poor little furry buggers would have to eat unless they liked cacti.
Through the reserve and I turned onto the D71 which was another good bit of road: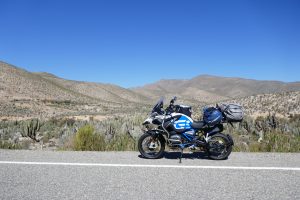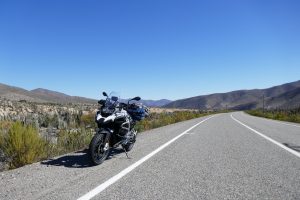 Through Combarbala and the next aiming point was Ovalle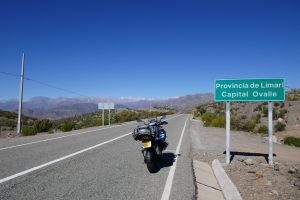 The road got tighter here and I found myself frequently running alongside a disused narrow guage railway but I eventually reached Ovalle and then had a decision to make as to which route to go to my destination at Vicuna. I'd looked at the map earlier and it indicated that broadly anything not coloured red or yellow was an unmade road and in fact just before the Chinchilla reserve the road ahead which was indicated as a main road had a sign "Pavimento Cerrado" – road paving finished – and was indeed a hard packed dirt road as far as the eye could see. So I chickened out and headed towards La Serena a large town on the coast. They had clearly just finished off a new toll dual carriageway but luckily for me hadn't got round to installing any toll booths yet so I have a free run to La Serena when I took Route 41 all the way to Vicuna and my hotel for the night.
The hotel – Hysteria Vicuna – was Ok and the porter very kindly opened the padlocked gate into the garden and made space for the bike in a small summer house where it was out of sight.
Saturday 22nd
I half debated staying on in Vicuna as it's the gateway to Paso Agua Negre which at 4,755m is the highest pass between Chile and Argentina, but which I found out was officially closed, although others had said it was open. I thought I'd leave that to the return journey so headed back to La Serena before heading North once more.
Vicuna is a pretty small town and bills itself as the centre for astronomy since there are lots of observatories on top of the high mountains which surround it. It has a hippy backpacker vibe to it and there were lots of hippy backpackers around to prove the point. I only took one photo though of its rather quaint church on the main square: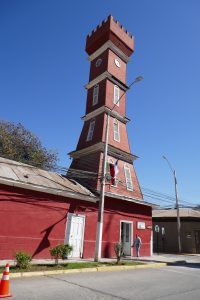 You pass a large reservoir just South of Vicuna: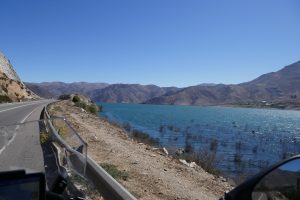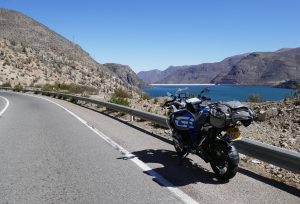 A little further on I stopped to look at one of the many hundreds of roadside shrines you see alongside virtually every road: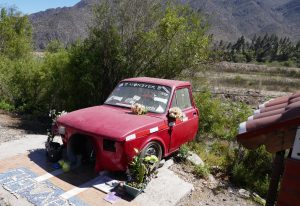 There are always photos of the departed but why half a car? Was it his favourite car? I saw one in La Serena which had a photo of a young boy and there was a twisted bike attacked to the wall above his photo. Was he killed riding it? Weird. If anyone has an explanation let me know.
Anyway from La Serena it was once more onto Route 5.
I came to a point where I knew from the Sat Nav that the road was about to head inland and there was a pretty fishing village – Las Hornos –  right by the road. It was about lunchtime and as I'd had one piece of toast as the breakfast promised at the hotel seemed to have done a disappearing act I thought I'd stop off: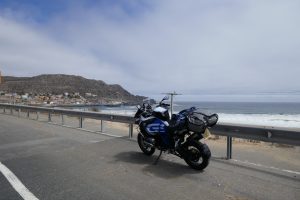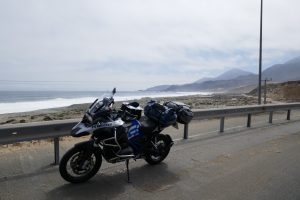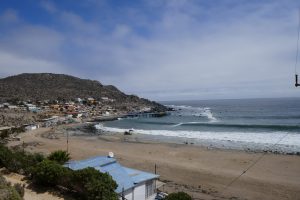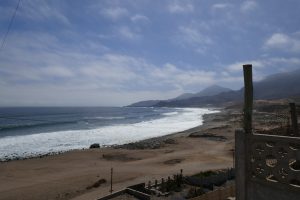 and the restaurant where I had some delicious fresh fish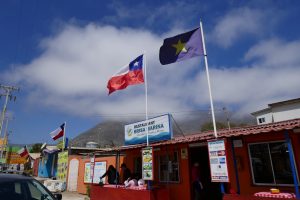 From there it was straightforward run up Route 5 to Copiapo. But before Vallenar I noticed the observatory at Cerro La Silla off to the right and there was a massive solar panel array just off the road: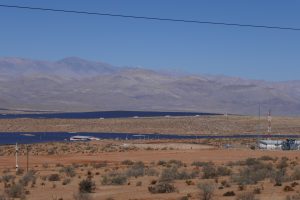 and a panoramic view from the same spot

From there Route 5 took me virtually all the way to Bahia Inglesa, near Caldera where I'd booked a hotel. After the obligatory avoiding the stray dogs routine – the trick is to aim at them and they seem to get the idea that it's good to get out of the way – I eventually found the hotel. I've never been to a place which so failed to meet the description on the booking.com website. Tanya asked me whether it was a s**thole and I said that would be an affront to s**tholes the world over. I just said that I'm cancelling my reservation and rode out. That did leave me with the need to find somewhere to stay but I just stopped at the first set of Cabanas I came to and they had one – at half the price of the other – and it was OK. Shower worked and no bed bugs – result.
This was my route for the day: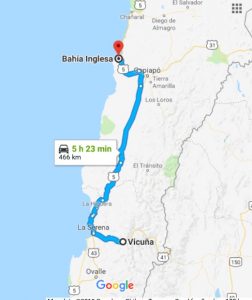 A few drinks at a local bar and I decided all was good.
Sunday 23rd
The aim for Sunday was to get to Antofagasta. It was my first real day in the Atacama desert which you may not know is the driest place in the world bar Antarctica. It less than ½ an inch of rain a year. I noticed the landscape changing as I approached Caldera the evening before – much more sand about.
Leaving Caldera I was back on Route 5 which followed the coast all the way to Chanaral. I think rugged is the description I would use of the coastline. Reaching Chanaral there were signs of how the ore mined inland used to get to the ports to be loaded onto ships – by train-  but those days are long gone. The ore is mostly crushed, water added to turn it into a slurry then piped from the mine to the coast where the water is removed and the ore loaded onto the ship. There was a ship which looked as if it was being loaded in the harbour: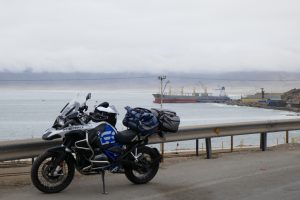 After Chanaral you are straight into what is unmistakably desert. These photos were taken a few miles after leaving the town: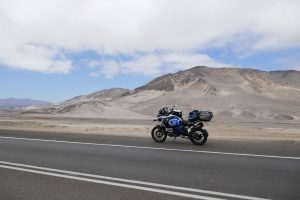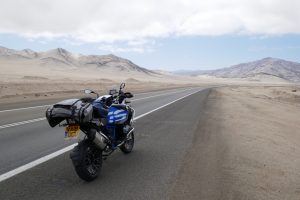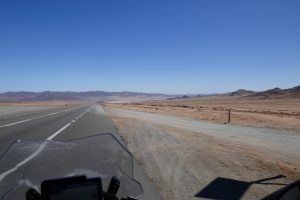 It looks a bit boring but for me it was a nice change The different hues as you travel along. And not a single living animal for maybe 50 miles except for some buzzards. I had the option of staying on Route 5 which would take virtually all the way to Antofagasta but I turned off left on route 1 to Taltal.
Taltal's a pretty little fishing village that used to be a mining town. Just before town another roadside shrine caught my eye: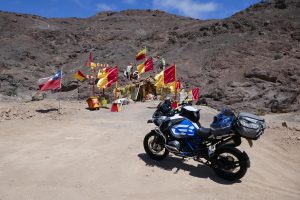 This one was dedicated to San Lorenzo and I decided to initiate my roadside shrine of the day competition and this was the first winner. Others will  be announced in due course.
Into Taltal and here was a reminder of what used to haul ore: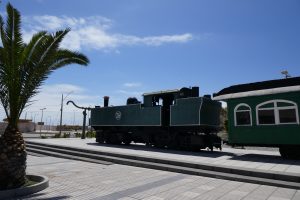 I rode down to the Harbour and made the acquaintance of a local riding a GSA. He told me he'd ridden down from Chuquicamata where he was a contractor working at the mine there – one of the world's largest opencast Copper mines in the world. He was chomping on an empanada – a South American Cornish pasty – which he said was good -and I have to say that for about £2.50 the seafood variety – empanada marisco – was very good. So much so that a few of the locals were queuing up for scraps: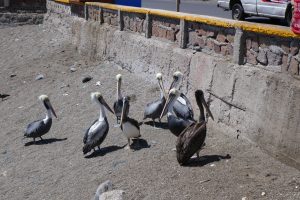 It was a pretty sight: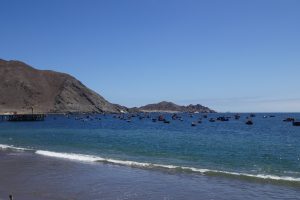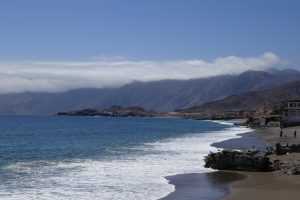 I set off North again towards Paposo. The road hugged the coast and was enjoyable: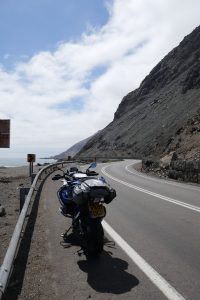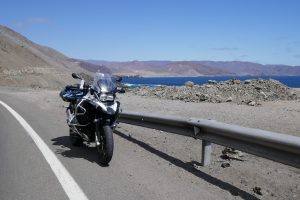 At Paposo I could have continued along the coast road but decided to head back inland on the main road signposted Antofagasta. This was fun – for about 15 miles the road just climbed and climbed, bend after bend after bend, until we got up to about 7,000 feet plus. If you have a look at the profile the first high bit is the road between Chanaral and Taltal and the second high bit is the road from Paposo:
Once I'd reached the plateau is was a rerun of the previous section only higher. The only odd thing I noticed was that the higher I got the hotter it got. Thus at sea level it was down to 16c. On top it was ranging between 28 and 32. The same applied as I approached Antofagasta – as I dropped towards sea level the temperature dropped with it.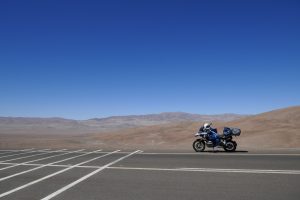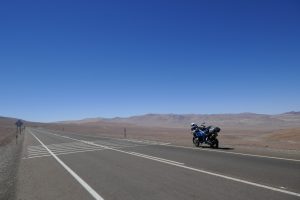 The road seems endless at times: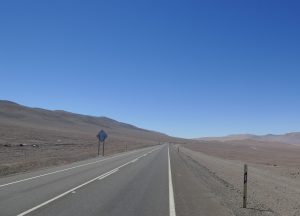 I knew there was an observatory nearby from the map – the Panaral and soon I saw the sign and there was a paved road up to it: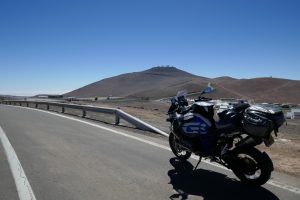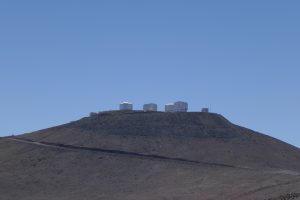 At this point I was just under 8,000 feet up
They have an airstrip right by the main road presumably to ferry the boffins in and out. You can see it in this photo form the descent: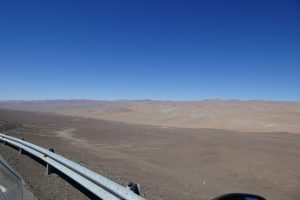 From there it was a straight forum down to rejoin Route 5 but instead of turning left and heading straight for Antofagasta I turned right as I calculated that the sculpture Mano del Desierto – the hand of the desert couldn't be more than 10 miles up the road.
Wikipedia has this to say about it:
"The sculpture was constructed by the Chilean sculptor Mario Irarrázabal at an altitude of 1,100 meters above sea level. Its exaggerated size is said to emphasize human vulnerability and helplessness.The work has a base of iron and concrete, and stands 11 metres (36 ft) tall. Funded by Corporación Pro Antofagasta, a local booster organization, the sculpture was inaugurated on 28 March 1992."
Anyway here it is: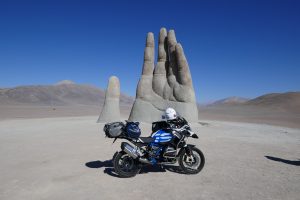 Anyway obligatory tourist bit over I headed for Antofagasta and my hotel. This was my route: