After a day off in Salta, hunting for the Saltenas which Rosalia told me were the best, and which were indeed very good, it was time to head South. Day 1 was just to be a short one, about 125 miles to Cayafate along the Ruta del Vino or Ruta 68.
It was hot getting out of Salta but it seemed to get hotter. The temperature gauge kept creeping up till it was reading 41.5c. That's not the hottest day I've ridden. That was with Andy Cameron in 2016 when we rode out from Seville in 44.0c heat.
41.5 was however more than hot enough and the ride had been fairly uninteresting with nothing worth taking a photo of.
After about 80 miles I passed a small collection of houses with a name – Alemania – so I guessed it had been founded by Germans, although I couldn't see beach towels anywhere.
I stopped for a drink under the shade of a tree and when I got back on the bike things took a turn for the better. The road started to climb up alongside a river which actually had running water in it, and the next 40 miles or so to Cayafate was a really nice ride. Let the pictures tell the story: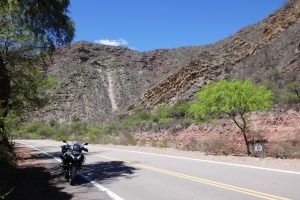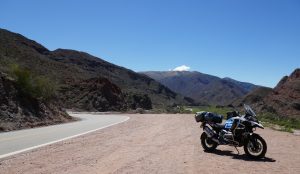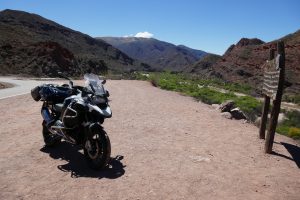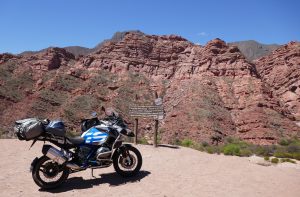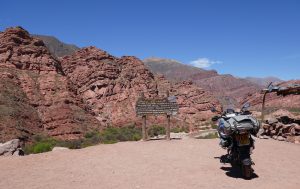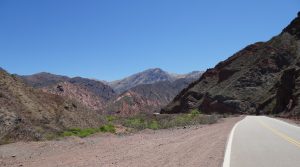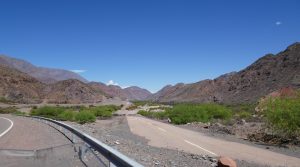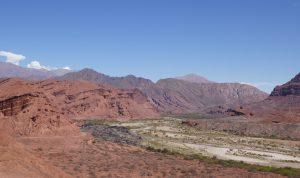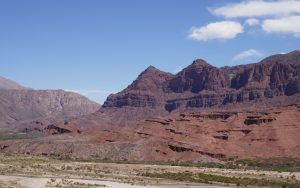 So a nicely engineered road, loads of bends, well surfaced, what was not to like! Well nothing, so those last 40 odd miles into Cayafate were very enjoyable.
As I entered Cayafate Ruta 68 became Ruta 40 – La Cuarenta – which  would ride for the next two days. My hotel – the Villa Vicuna – was excellent and it was a short walk to a restaurant which was showing the Argentina v All Blacks game.
The route: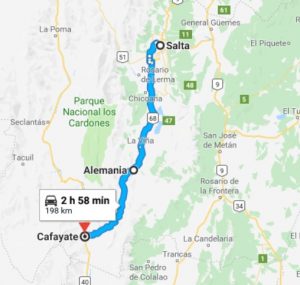 The next day I was heading for Nonogasta, 300 miles South on Ruta 40.
It wasn't as hot as the previous day – 37.5c was the hottest it got – but today's bugbear was the wind. It was fairly flat but the GSA has a big frontal area and the wind was buffeting me a lot.
The first part to Santa Maria was fairly busy but it quietened down after that.
After Santa Maria I came round a corner to see a recreation of the Hill of Calvary presumably so those minded to bother god could have a go themselves: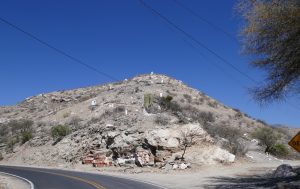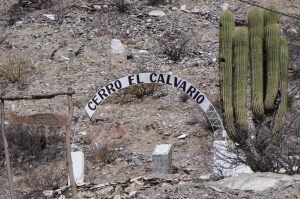 From here the road opened up so I might ride 10 miles in a straight line and then have a slight kink in the road, left or right as the case might be, just to break up the monotony. Still I couldn't stop concentrating – there were cows, horses, mules, sheep and goats wandering about in the scrub – and I didn't want to collide with any of them.
From time to time you could see the original Ruta 40. In some places they have laid tarmac over it. In others the road runs alongside it, and in others the road is brand new and diverging from the original course by a mile or more.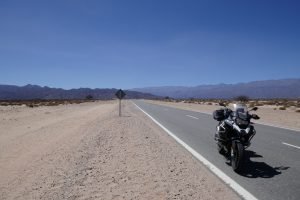 In this photo the original road is 50 metres to the right running parallel with the new road.
There was one stretch of road on the map marked as unmade and I approached this stretch with some trepidation not really fancying 15 to 20 miles of unmade gravel road. All that worrying was needless. The map was out of date and the road past Hualfin was a new road.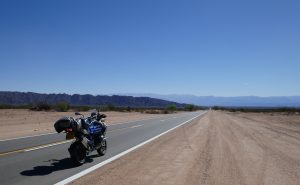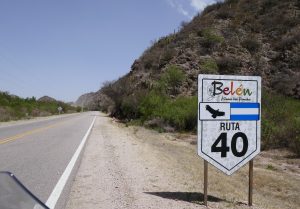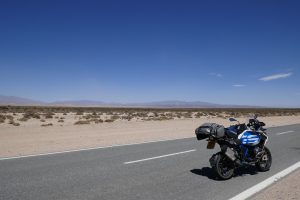 Carrying on I was approaching Chilecito when another dust storm blew up: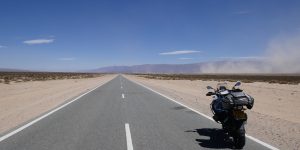 Stopping in Chilecito for fuel I found my first empty fuel station of the trip but I still had enough to get to Nonogasta 10 miles down the road. I'd read about petrol stations running out in the more remote areas, with people being stranded until the fuel truck arrived. Luckily the Satnav said there was a station on the outskirts of town and they had plenty of fuel.
Rolling into Nonogasta and my hotel for the night the Hotel Posada al Olivo I found I was the only guest. Mine host explained that they had been full the previous night and the staff didn't turn up foremother hour or two. However, fair dos to him he pulled out all the stops bringing me beer, local olives etc until the one member of staff on duty that evening arrived. She cooked me a lovely dinner, and breakfast the following morning was equally good. The setting was lovely and all this for Euro 75 – quite a few hotels want hard foreign currency and the quid pro quo is that you don't have to pay the 21% VAT.
The route: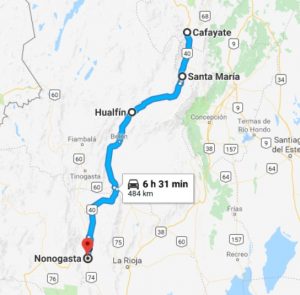 Yesterday was potentially a long day with about 375 miles to ride to get to Mendoza.
I started off in sunshine and soon approached a pass: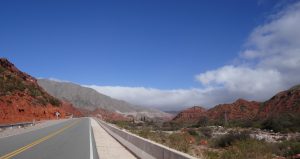 That cloud was moving fast, this was taken seconds later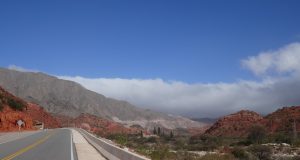 You can just about see the pass road cut into the hillside ahead. It would have been fun riding this but for the wind which was fierce and blowing the bike about a lot, and but for the temperature which dropped to about 9 or 10. I had to stop and layer up.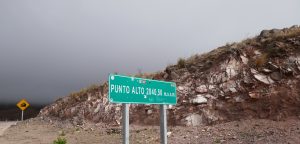 I rode the next 225 miles in a seriously cold wind and frankly it wasn't a lot of fun. Still sometimes you have to suffer to get where you want to go and once I got past San Juan it started to get brighter and the last 50 miles into Mendoza were ridden in sunshine.
I could see some snow capped mountains and a check of the map confirmed that this was Aconcagua, which I'd seen from the plane as I flew into Chile 18 days previously.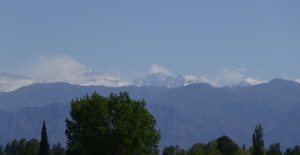 I resolved to ride closer to it before I headed South and that is indeed on tomorrow's agenda.
As for the day's route: